ArtPeace Zimbabwe
A PRACTICAL WAY OF HELPING IMPOVERISHED ZIMBABWEANS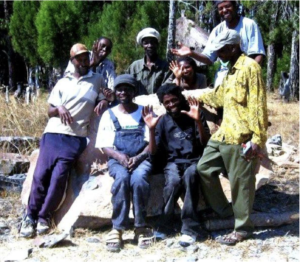 For over 10 years, St Andrews United Reformed Church, Walton on Thames has supported Artpeace, a cooperative of highly talented stone sculptors (photo left showing some of the group) with whom they are in contact most days.
Made homeless by government agencies, these artists lost everything but are now able to continue their work in safety at Silveira House, a charity run by the Jesuits. The best small sculptures are sold and the proceeds from various sales are sent quickly, direct and in full to the artists; virtually the sole income from their art going a long way towards supporting their extended families of around 400 people, many of whom live in rural areas.
For a full introduction on this project, have a read here.
Check back to this page on a regular basis to see how the project is progressing.